Gallagher Broker Brian Merriam Recognized as a 2023 Nonprofit Power Broker
Brian Merriam, National Director – Religious Practice & Area SVP, Gallagher
Brian Merriam is no stranger to rescue mission ministries. Prior to merging his own company, Merriam Insurance Agency, with Gallagher, Merriam worked as a self-employed insurer. Merriam Insurance Agency was founded by Merriam's great-grandfather over 100 years ago, and "was a leader in rescue mission risk management," according to one of Merriam's clients, Chris Hedland, director of education for Hope Gospel Mission.
Merriam continued the family work by providing stellar risk management solutions to his clients so that "they would have more of their finances available to help the homeless, abused and addicted get well," per Hedland.
One such solution was the creation and implementation of moisture and temperature monitors.
Merriam's temperature monitors have twice alerted Hedland that an on-site freezer was too warm, enabling the team to fix the refrigeration issue before any food loss.
"Both times, the food loss would have been almost $10,000 if we hadn't received this alert," he said.
Merriam's extensive knowledge is what is revered by Hedland as well, being that he "insures more rescue missions than any other person in the country."
He continued: "A local agent wouldn't know what types of exposures and liabilities are most popular. Without this knowledge, we would be guessing at our coverage needs."
2023 Nonprofit Power Broker Winners
---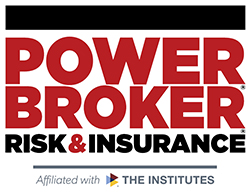 What is a Power Broker?
A Risk & Insurance Power Broker® is an individual who stands out among their peers for the exceptional client work they have delivered over the past year. While brokers play many key roles in the insurance industry and risk profession, a Power Broker® award recognizes problem solving, customer service and industry knowledge.
Our goal is to broadly recognize and promote outstanding risk management and customer service among the brokerage community.
Who selects the winners?
Power Brokers are selected by risk managers based on the strength of the testimonials they provide to a team of 15 Risk & Insurance editors and writers.