EPIC Insurance Broker Charlie Jimenez Recognized as a 2022 At Large Power Broker
Charlie Jimenez, Account Executive, EPIC Insurance Brokers
After his client suffered a social engineering fraud event, Charlie Jimenez recommended the firm buy a standalone cyber policy. The policy would complement its crime policy to provide additional coverage and capacity at a lower deductible. 
Cognizant that there could be conflicts between the two policies' clauses — at worst, both claiming to be excess to any other coverage, thus resulting in a conflict between insurer in the event of a claim — Jimenez structured the cyber policy to be explicitly primary coverage to the existing crime policy.
A few months later, his client suffered another social engineering fraud event, incurring a significantly greater loss than the previous one.
But because of the way Jimenez had set up the social engineering coverage between the two policies, with clearly defined primary and excess coverage, he was able to get a near $500,000 claim paid within just a few weeks of loss discovery and avoid any delays or drawn-out negotiation with the insurers about who was responsible for the claim.
It was a seamless solution that saved his client time and stress and enabled the company to recover its capital and put it back to work quickly.
Another client, Alan Rich, VP, Seacoast Capital Partners, said, "What separates Charlie from prior brokers we have worked with is his consistent follow-ups and conversations. He's also intelligent, highly professional and is able to offer sound advice."
2022 At-Large Power Broker Winners and Finalists 
---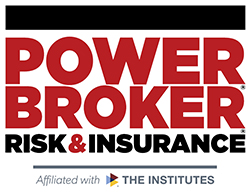 What is a Power Broker? 
A Risk & Insurance Power Broker® is an individual who stands out among their peers for the exceptional client work they delivered over the past year. While brokers play many key roles in the insurance industry and risk profession, a Power Broker® award recognizes problem solving, customer service and industry knowledge. 
Our goal is to broadly recognize and promote outstanding risk management and customer service among the brokerage community. 
Who selects the winners? 
Power Brokers are selected by risk managers based on the strength of the testimonials they provide to a team of 15 Risk & Insurance editors and writers.