Aon Broker Michael McCoy Recognized as a 2022 Manufacturing Power Broker
Michael McCoy, Managing Director, Aon
As managing director at Aon, Michael McCoy has been fortunate to have been part of the insurance industry since 1991.
During this time, he has focused on growing and learning to understand his clients' businesses to deliver an optimum product. As the leader of the Southwest region of Aon's national casualty practice, McCoy has the privilege of watching the team grow, learn and develop. He has helped lead and grow an office from a complete business development perspective.
"We engaged Mike mid-year and he inherited a program built and managed by another broker," said Jake Records, vice president of tax and insurance at Eagle Materials.
"He solved a lingering issue related to our GL form and some limitations the form was causing in providing the proper endorsements to one of our customers. Ultimately this helped build credibility with our customer and showed me that Mike gets results when others can't."
McCoy also spent considerable time to help redesign Eagle Materials' insurance program so that it works best for the company.
"Mike has shown creativity and drive throughout the process," said Records. "His efforts redesigning our casualty program has increased our coverage, reduced our risk and our premiums. I can only assume he possesses expertise and drive that is among the top of all practicing brokers."
2022 Manufacturing Power Broker Winners and Finalists
---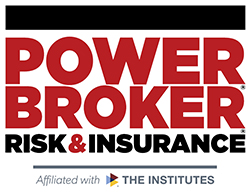 What is a Power Broker?
A Risk & Insurance Power Broker® is an individual who stands out among their peers for the exceptional client work they delivered over the past year. While brokers play many key roles in the insurance industry and risk profession, a Power Broker® award recognizes problem solving, customer service and industry knowledge.
Our goal is to broadly recognize and promote outstanding risk management and customer service among the brokerage community.
Who selects the winners?
Power Brokers are selected by risk managers based on the strength of the testimonials they provide to a team of 15 Risk & Insurance editors and writers.