Aon Broker Brooke Schmidt Recognized as a 2023 Workers' Comp Power Broker
Brooke Schmidt, Broker, Aon
Broker Brooke Schmidt has an eye for detail many of her clients appreciate — especially because it often saves them money when it comes time to renew their workers' comp insurance policies.
"She's always super thorough," one client said. "[She's] just a really good business partner. Instead of saying, 'Okay, well, just send me what you have and we'll go to market and see what we can do,' she really tries to be thoughtful and asks about business changes and checks in with us periodically to make sure that we're still on track."
When a multinational clothing company was preparing for a renewal with its longtime insurance carrier, Schmidt realized there was an almost $1 million discrepancy between the insurer's ultimate liability estimates and her own projections. She also found the carrier's paid loss credit treatment was below what Aon would have benchmarked, given the clothing company's financial rating.
Not only did she secure the insured a competitive renewal rate with favorable terms, Schmidt used these issues to negotiate with the insurer and ended up increasing both her client's paid loss credits — from 23% to 30% — leading to hundreds of thousands of dollars in collateral returns.
Other clients appreciated her guidance during periods of growth. Two different firms she works with brought on new staff. "We've got this challenge of trying to grow the business, but we wanted to keep our costs down as much as possible," one client said. "Brooke did a great job of managing these new things and getting a pretty flat rate."
2023 Workers' Comp Power Broker Winners and Finalists
---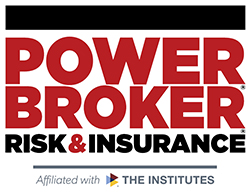 What is a Power Broker?
A Risk & Insurance Power Broker® is an individual who stands out among their peers for the exceptional client work they have delivered over the past year. While brokers play many key roles in the insurance industry and risk profession, a Power Broker® award recognizes problem solving, customer service and industry knowledge.
Our goal is to broadly recognize and promote outstanding risk management and customer service among the brokerage community.
Who selects the winners?
Power Brokers are selected by risk managers based on the strength of the testimonials they provide to a team of 15 Risk & Insurance editors and writers.