Aon Broker Brian Finnegan Recognized as a 2022 Environmental Power Broker
Brian Finnegan, Managing Director, Aon
Environmental coverage is a necessity. For one client, Brian Finnegan has turned pollution policies into a competitive advantage. 
Because of its confidence in the policies Finnegan has put in place, the client — a real estate investment firm — can better understand the risks it's taking on and dive into deals more quickly. 
"It really is a big advantage knowing that we've got an environmental pollution policy — with Brian's help — that gives us that ability, that confidence, when we're underwriting," said an asset manager at the firm, which takes on relatively riskier properties. 
In fact, partners on deals across the table have praised the firm's policies, the manager added. "Getting that confirmation, I think, has been very comforting." 
The manager further attributed Finnegan's success to his understanding of clients and of insurance markets. "He has a good bead on what's out there, and he just has a good way of understanding what it means to work with landlords like us."
That includes being able to cut through the jargon inherent in environmental issues, said another client, a risk manager at a real estate investment firm. 
"He has the unique ability to take very technical, environmental lingo and break it down and communicate to non-environmental specialists what the issues are — i.e., me," said the risk manager, adding that she also appreciates his understanding of her firm and how it operates. 
"He really is just an integral part of the risk management department," she said.
2022 Environmental Power Broker Winners and Finalists 
---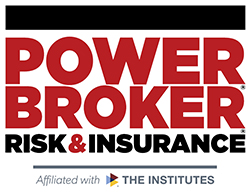 What is a Power Broker? 
A Risk & Insurance Power Broker® is an individual who stands out among their peers for the exceptional client work they delivered over the past year. While brokers play many key roles in the insurance industry and risk profession, a Power Broker® award recognizes problem solving, customer service and industry knowledge. 
Our goal is to broadly recognize and promote outstanding risk management and customer service among the brokerage community. 
Who selects the winners? 
Power Brokers are selected by risk managers based on the strength of the testimonials they provide to a team of 15 Risk & Insurance editors and writers.