As Mask Mandates Lift, What Happens to Employers' Liability Exposures?
Now that the CDC recommendations say most Americans can remove their masks, what should employers do to keep workers safe?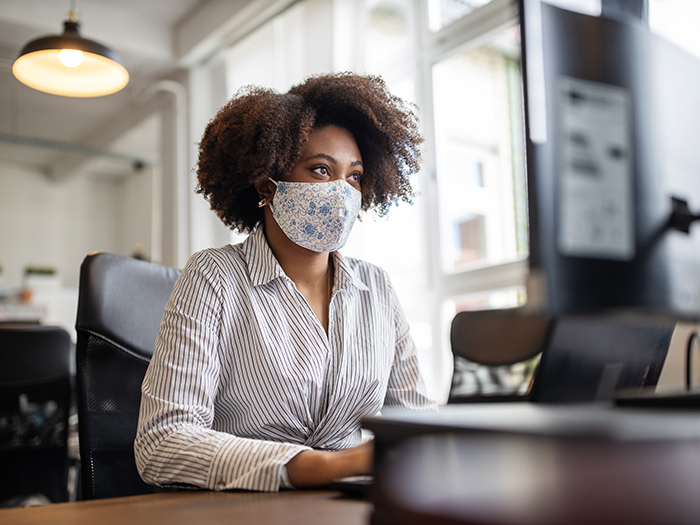 For nearly two years, employers turned to the government for guidelines on whether and when to require masks in the workplace. 
Now that the federal guidelines allow most Americans to drop their masks, employers are deciding whether to follow — and weighing the risks of whatever path they choose. 
The law generally allows employers to set their own policies. But when it comes to COVID-19, employers have to consider their obligations to keep people safe, as well as how their decisions could effect employee morale and those at higher risk for COVID-19. 
"It's really on an employer's shoulders now," said Elissa Jessup, an HR knowledge adviser with the Society for Human Resource Management in Alexandria, Va. 
Complicating matters, policies must account for the current state of the pandemic as well as its future course. Under the most recent guidance from the Centers for Disease Control and Prevention, mask wearing depends on how rapidly the virus is spreading in a given community.  
In most U.S. counties, the agency shows a low transmission rate for COVID-19 and thus no need for most people to put on masks. But transmission could accelerate at some point — and masks may again be recommended.  
Employees Want a Plan
Through 2020 and 2021, employees were relatively open to sudden shifts in workplace policies. Now, though, many employees are looking for a plan, Jessup said.
"Employees want to know what to expect," she explained. 
As a result, employers need to clearly communicate both the current plan and the potential for change.
"Obviously, the lack of communications is where things get sticky and the employee relations piece can really get out of hand," she said.  
So far, employers have adopted three broad approaches, Jessup said, based on what she has seen at SHRM. The most risk-averse are maintaining workplace mask mandates regardless of whether employees have been vaccinated. Some are waiving mask requirements for employees who are fully vaccinated. Others are leaving it up to employees. 
The latter is the riskiest option, as it opens up a potential conflict with the U.S. Occupational Safety and Health Administration.
"OSHA, regardless of what's going on, still requires employers to maintain a safe and healthy work environment," Jessup said.
Regardless of which path they choose, employers are likely to rankle some subset of employees, whether it is people who staunchly oppose masks or those who believe masks should stay regardless of community transmission levels. 
"It's hard to keep everybody happy," Jessup said. "But I would say a cautious employer could survey employees and kind of get a gauge of how they're feeling about the circumstances, what approach they would like to see in the workplace." 
Understand Your Workforce's Risk
The analysis also should account for an employer's industry and the amount of contact its employees have with the public, said John Ho, co-chair of the OSHA workplace safety practice at law firm Cozen O'Connor in New York City.
Industries with workers facing the public may be more prone to retaining mask mandates.
Geographic location could play a role, too, Ho said. Workers in Texas, for example, may be more reluctant to don masks than workers in the Northeast. 
Masks aren't the only place to focus. Employers should continue encouraging people to stay home when they are sick and to send notice if they test positive for COVID-19. 
Once rules are in place, employers should remain vigilant to ensure they are being followed.
"As more people start to travel and do normal life activities, there's a tendency to let your guard down," Ho said.  
Understanding the Legal Risks
Compliance could be especially important when it comes to tracking cases of COVID-19, said Ho. OSHA still requires reporting of cases that lead to hospitalization or death. But employers should track even less-serious cases to prevent a cluster. 
OSHA likely won't have the time or legal footing to investigate a single case of COVID-19 in a workplace.
But an employee sensitive to the risk might notice several co-workers who are out sick at the same time, Ho said.
If the employee feels the employer is not adequately safeguarding the workplace through measures like mask-wearing and social distancing, the employee could file a complaint. 
"That could certainly generate OSHA's interest," he said.  
Even if employers are on solid legal footing, they should not ignore the risk of claims. 
"Half the battle for employers is to just avoid a problem altogether," said George Hlavac, managing partner at Hoffman Hlavac & Easterly, a law firm in Allentown, Penn. "The problem is the claim itself will cost a significant amount of time and resources and money." 
Many employers are struggling right now to get a sense of what will work best in the workplace, he added. If they drop masks, they could face a backlash from workers who want to see masks remain. If employers keep masks, they could alienate those who think the protection is no longer necessary. 
"Just like our country, our workplaces are divided," Hlavac said. "Pro-mask, anti-mask; pro-vaccination, anti-vaccination. Whatever the issue is, there seems to be a split."
People at higher risk from COVID-19 may insist on a workplace mask mandate, but a widespread mandate likely would not be considered a reasonable accommodation under the Americans with Disabilities Act, Hlavac said.
Employers can offer to let people continue to work from home as an alternative, or they can move concerned employees to a relatively isolated area in the workplace or install plexiglass shields around their workspace.  
Instead of filing complaints, of course, employees may simply leave for an employer with policies more to their liking.
"It's a good job market out there," Hlavac said. "That's one of the practical issues that an employer has to look at." 
The decisions now are in some ways more difficult than the challenges employers faced at the start of the pandemic, said Tracy Brower, vice president of workplace insights at Steelcase, an office furniture company based in Grand Rapids, Mich. 
When businesses shut down in March 2020, she said, "Everyone was doing the same thing at the same time. Now, it's fragmented." &
Joel Berg is a freelance writer and adjunct writing teacher based in York, Pa. He has covered business and regulatory issues. He can be reached at
[email protected]
.