7 Questions for WCRI's New CEO Ramona Tanabe
Ramona Tanabe assumed the role of WCRI's CEO in May 2023. She shares her thoughts, her goals and career wins that have led her to this position.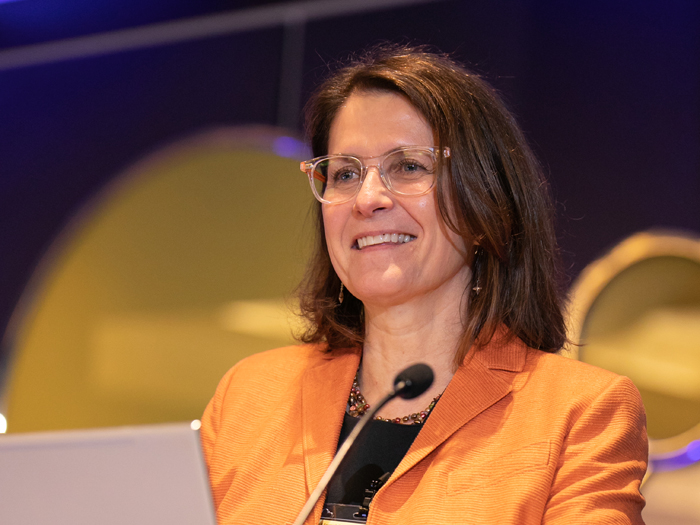 Every year, the Workers' Compensation Research Institute (WCRI) looks at a wide range of workers' compensation issues, from COVID-19 to prescription drug regulation, digging into the research and really getting to the core of the biggest regulations, trends, events and more impacting the industry.
Effective May 1, Ramona Tanabe has taken the helm at WCRI as CEO, following John Ruser's eight-year stint in the role and a 40-year professional career.
Tanabe, who has spent more than two decades with WCRI, is excited for this next era for her career and for WCRI. She sat down with Risk & Insurance to share WCRI's plans for this chapter.
Risk & Insurance: Can you share with us your background? What led you to a career in workers' comp, and how did you find yourself at WCRI?
Ramona Tanabe: I'm trained as a lawyer and ended up moving from Illinois to Massachusetts.
I wasn't yet licensed to practice law in Massachusetts. I was looking for something that was similar to what I was doing before. I worked for a firm that represented municipal units, so school districts, fire departments, police departments and villages.
The taxing structure is very different in Illinois than it is in many states; the law firms are paid by tax dollars, so kind of a public servant situation. I was looking for something that felt a little bit similar, doing something for the public good.
I stumbled across an ad looking for help at WCRI, I went for an interview, and I loved it. I started there and then took on different roles as I learned and understood more about workers' compensation as well as the mission and the objectives of the Institute.
R&I: What are you most looking forward to in your new role as CEO?
RT: I really enjoy looking outside and looking inside and connecting these.
This role gives me an opportunity to do that, working with the different people who are involved in workers' compensation, our stakeholders, our members, as well as working with my fantastic colleagues.
I'll facilitate sharing this information to ensure my colleagues know about the important questions, issues and topics that policymakers and other system stakeholders are trying to learn more about or answer on the outside.
Then, I'll make sure we are addressing them on the inside with our research.
R&I: What are some of the ongoing and upcoming initiatives that you're also excited to explore?
RT: Every year, we put together an agenda for our research projects. We look at what the significant public policy questions are as well as what we are hearing from our members, policymakers and other stakeholders.
We're continuing our work in the area of behavioral health as well as medical inflation.
We have studies on attorney involvement in workers' compensation, changes in the claims composition as the workforce changes, the drivers of longer-term claims, and the potential shortage of medical care and its impact on the outcomes of claims.
R&I: New technologies are popping up and impacting all facets of life. What role do you see technology playing in the future of workers' compensation? Why this role?
RT: It's interesting because, more recently, AI has not received great press, but it can be useful.
While nothing replaces people doing analytics, there's certainly some work that AI can do and that's been demonstrated in many areas of workers' compensation (e.g., reviewing X-rays and MRIs).
It can be good as long as it's used as a tool in conjunction with people, because the people are the piece that make AI useful.
R&I: What are some of the main topics in workers' comp that you and the team will be keeping an eye on?
RT: When we started our study on behavioral health, it was because this area really grew within the group health community and has started showing up in workers' compensation too.
We've also seen attention to coverage of workers who are affected by PTSD. We're watching those. We keep an eye on the activity happening within each state, including conversations about presumptions and coverage changes to the workers' compensation laws.
We're also watching the changes Medicare is making and monitoring how those will play out within the workers' compensation medical fee schedules.
R&I: What's something that you are most proud of, either professionally or personally?
RT: I am particularly fond of CompScope™, our multistate benchmarking product, which is used to monitor state workers' compensation systems and track the impact of reforms.
CompScope™ was one of the first projects I worked on at WCRI. The name comes from putting the workers' compensation system under a microscope. Since we first published it in 2000, it has grown to include more measures and states. It is published annually and is well received by stakeholders.
I'm really proud of our team for what they've put together, how they've grown CompScope™, and how they've listened and been responsive to the feedback and questions policymakers and stakeholders have. All of this is incorporated into the product.
R&I: What's one thing you'd love for everyone in the workers' comp space to remember, which they may not always have top of mind?
RT: It's all about the injured worker.
While people are aware of that, sometimes we might get too focused on what's in front of us, and we all play different roles in the workers' compensation world. So it's important to keep that in mind, that we do all have a common goal. &
Autumn Demberger is the content strategist at Risk & Insurance®. She can be reached at
[email protected]