Risk & Insurance News + Notes: Vermont's Captive Insurance Industry Releases 2021 Licensing Figures, Aspen and Ryan Specialty Expand Their Trading Relationship and More
USI Insurance Services broadens its reach through new partnership with Longview, Texas-based D&H Risk Services.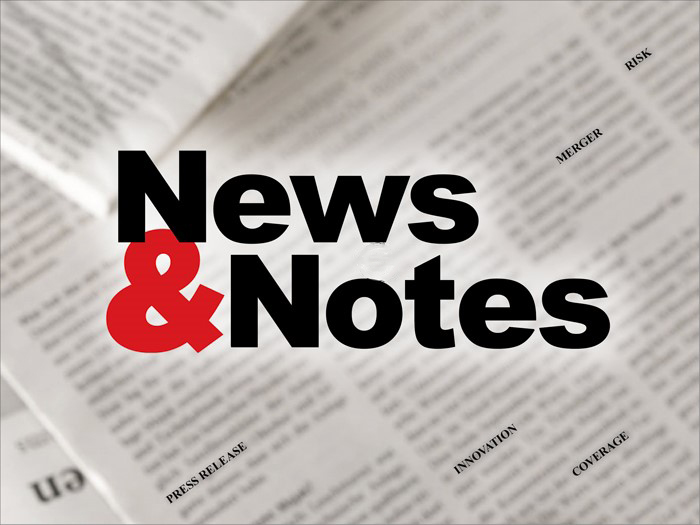 Vermont's Captive Insurance Industry Releases 2021 Licensing Figures
In 2021, Vermont's captive industry celebrated its 40th anniversary with the licensing of 45 new captive insurance companies, making last year the fourth highest year of growth in the domicile's history.
Vermont is now home to 620 licensed captives, consisting of 589 active and 31 dormant captives, according to a press release.
"Vermont continues to be a global leader in the captive industry and has proven, once again, to deliver high-quality regulatory oversight and partnership that also meets the unique needs of captive businesses," Governor Phil Scott said.
The state's 52 sponsored cell captives currently host nearly 500 cells and separate accounts, in addition to the licensed captive companies. The new captives were licensed in 17 different industries — principally in health care, real estate, manufacturing, insurance, and transportation.
"Not only are new captives forming at a rapid rate, but fewer captives have been dissolving this year than we typically see," Brittany Nevins, the state's captive insurance economic development director pointed out.
"We issued 45 new licenses, and only 14 captives were dissolved due to mergers, acquisitions, and other business reasons," she said. "This speaks to the strength of captive insurance as a long-term risk management tool and is something we expect to continue to see with the continuation of the hard insurance market."
"It's been an incredible year of celebrating Vermont's rich 40-year history," said Rich Smith, president of the Vermont Captive Insurance Association (VCIA).
Smith said last year's growth "speaks to the expertise of Vermont's regulators and industry service providers, the consistency of support for captives in the legislature, and the ability of all involved to adapt to the fast-changing needs of the industry during these volatile times."
Aspen and Ryan Specialty Expand Their Trading Relationship
Aspen Insurance Holdings Limited (Aspen) has expanded its participation in the international managing general underwriters (MGU) portfolio of Ryan Specialty Group (Ryan Specialty).
As part of the deal, Aspen has brought coordinated insurance capital to support Ryan Specialty's $2 billion international underwriting managers business and its objectives, said Miles Wuller, president and CEO of RSG Underwriting Managers.
As of the start of 2022, Aspen has joined an additional seven programs from Ryan Specialty's MGU portfolio to "provide capacity across multiple platforms and geographies, with three programs in the U.S. and four programs in Europe," according to a press release.
"We now benefit from their syndicated support across nine of our MGUs," Wuller said. "We thank the Aspen team for their trust of our delegated underwriting stewardship."
"In conjunction with Ryan Specialty, we contemplated the existing structure of each binder and had to develop a creative solution relative to capital deployment through our U.S./UK companies and Lloyd's Syndicate 4711 to bring this to fruition," Bruce Eisler, Aspen's U.S. CEO, and chief underwriting officer, said.
"The trading partnership is a great testament to our technical underwriting capabilities and strong collaboration across our global platforms and products," Eisler said.
According to Mark Cloutier, Aspen's executive chairman and group chief executive officer, the expanded trading partnership is a "blueprint for creative capital deployment, exemplifying our purpose to bring 'clarity from complexity.'"
"This expanded trading partnership showcases Aspen's comprehensive capabilities, combining insurance, reinsurance and capital markets to deliver an innovative, risk transfer solution," Cloutier said.
Aspen provides reinsurance and insurance coverage to clients in various domestic and global markets through wholly-owned subsidiaries and offices in Australia, Bermuda, Canada, Singapore, Switzerland, the UK and the U.S.
Ryan Specialty provides distribution, underwriting, product development, administration, and risk management services by acting as a wholesale broker and a managing underwriter.
USI Insurance Services Acquires D&H Risk Services
Insurance brokerage and consulting firm, USI Insurance Services (USI), has expanded its presence in the state of Texas through the acquisition of D&H Risk Services LLC.
Based in Longview, Texas, D&H Risk Services is an independent risk management and employee benefits agency serving businesses and individuals.
"For more than 80 years, the D&H team has taken pride in delivering quality service and local expertise to our valued clients," Trace Shappell, president, D&H Risk Services, commented.
"By joining forces with USI, we are excited to continue this tradition by offering our clients expanded access to USI's best-in-class resources and solutions, including the USI ONE Advantage®, a unique platform that delivers innovative risk management and employee benefit solutions with bottom-line financial impact."
USI describes the USI ONE Advantage®  as "an interactive platform that integrates proprietary and innovation client solutions, networked local resources and enterprise-wide collaboration to deliver customized results with positive, bottom line impact."
"We are thrilled to expand USI's Texas-based presence by welcoming the talented team of professionals from D&H Risk Services to the USI family," USI's regional CEO, John Collado said.
"Working together, we look forward to leveraging our combined strengths to advance D&H Risk Services' longstanding focus on building long-term client relationships through an expanded suite of innovative risk management and employee benefit solutions," Collado commented.
Full terms of the acquisition have not been disclosed, according to a press release. &
Raquel Moreno is a staff writer with Risk & Insurance. She can be reached at
[email protected]
.