Risk & Insurance News + Notes: Vermont Signs New Captive Legislation, IGI Releases First Quarter 2021 Report and More
A compilation of the latest announcements, partnerships and products that are likely to have an impact on the insurance industry today.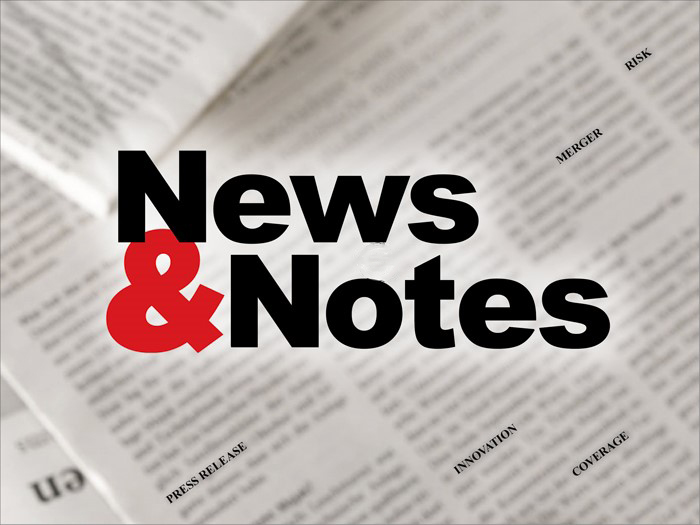 IGI Releases First Quarter 2021 Report
International General Insurance Holdings Ltd. (IGI) released its report for the first quarter of 2021.
Highlights from the report, which compares first quarter data from both 2020 and 2021, include gross written premiums increasing from $99.2 million in 2020 to $100.6 million in 2021 and net premiums earned increasing from $68.5 million in 2020 to $82.3 million in 2021.
In a press release announcing the report findings, it stated that "while market conditions remained positive, IGI also continued to further refine its existing portfolio, achieving improved terms and conditions."
The long-tail segment, which accounts for 38% of IGI's gross written premiums, recorded a slight increase from $37.8 million in the first quarter of 2020 to $38.2 million in the first quarter of 2021.
Additionally, the short-tail segment, comprising 53% of IGI's gross written premiums, decreased from $54.4 million in 2020's first quarter to $53.4 million in the first quarter of 2021.
IGI chairman and CEO Wasef Jabsheh said, "We have had a very solid start to 2021 on the back of our strong performance in 2020. Our results for the first quarter of 2021 clearly illustrate the strength of our underwriting capabilities and our agility in managing the portfolio to maximize returns."
Allianz Releases Atlantic Hurricane Season Outlook as 2021 Season Begins
With the 2021 Atlantic hurricane season officially beginning in June, Allianz released its projections based on past hurricane seasons, especially as the first tropical storms of the year emerged in April and May.
The report looks at past hurricane season metrics, especially as 2020's hurricane season was recorded with an above-average amount of storms. Additionally, experts utilized various weather conditions and metrics to determine the probabilities of the 2021 hurricane season.
According to the report, Allianz concluded the 2021 hurricane season "is expected to be slightly above the long-term average, with 15 to 18 tropical storms forecasted." Seven to nine are likely to reach hurricane strength, with two to four storms becoming major hurricanes.
The report also stressed the importance of remembering the implications that a singular hurricane can have on the insurance industry, depending on its severity.
The report states: "It does not require an active hurricane season for the insurance market to experience significant losses."
EDII and London Works Announce Partnership to Build D&I Initiative
EDII, a newly formed education and development company, announced its collaboration with London Works, part of the East London Business Alliance (ELBA), to introduce and build and diversity & inclusion (D&I) initiative in the London insurance market.
The purpose of the initiative is to "drive diversity, inclusion, equality and retention in the insurance industry," a press release announcing the partnership said.
EDII hopes the partnership will produce opportunity for those interested in an insurance career by participating in EDII's Digital Minds program. The 12-month course will provide participants with a career path in the industry.
Additionally, EDII also provides a sponsorship program in which insurance companies financially support ELBA delegates.
"EDII's mission is to open doors to the insurance industry for under-represented talent," said Caroline Bedford, chief executive officer at EDII.
She continued, "The ELBA/EDII partnership will give places to students and young people from areas of inequality and low social-mobility. The Digital Minds program not only provides the opportunity to upskill existing market talent but to increase the diversity of the insurance industry enabling delegates from inside and outside the industry together to learn side by side."
"We are honored to be partnering with EDII on this program that supports ELBA's mission to improve social mobility," said Carolyn Simmonds, business manager at London Works, which is ELBA's commercial diversity recruitment arm.
"The innovation that EDII is championing to attract talent is simply ground-breaking and will help to address the lack of diversity in a lot of firms, but also give opportunity to those who are often overlooked due to unnecessary barriers."
The State of Vermont Continues to Strengthen Captive Regulations
Vermont Governor Phil Scott recently signed new legislation aimed at enhancing the state's captive insurance capabilities.
The bill going into law looks to make various updated to the state's captive law, which include abilities to convert cells to other entities, and "simplifying processes around re-domestication, mergers, and the filing of organizational documents prior to licensure," a press release announcing the legislation said.
As Vermont celebrates its 40th year of captive insurance this year, the new legislation allows for the state to continue its success within the captive space.
"Through the years, Vermont has remained proactive in modernizing our laws to help the industry grow in the state," said Governor Phil Scott.
"Vermont is a global leader in captive insurance and continues to collaborate with the sector to ensure we remain a top destination for companies looking to create captives." &
Emma Brenner is a staff writer with Risk & Insurance. She can be reached at
[email protected]
.