Risk & Insurance News + Notes: U.S. Sees Solid P&C Performance in First Half of 2021, Genesis Legacy Solutions Issues First Loss Portfolio Transfer and More
LimitFi & SiriusPoint announce multi-year underwriting partnership and strategic investment.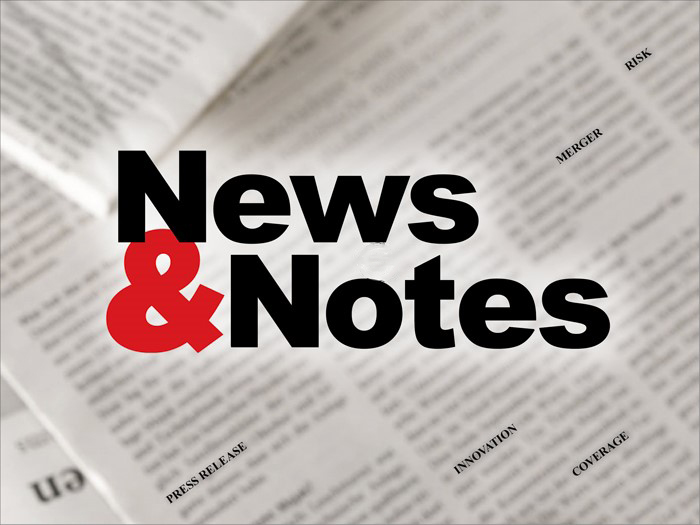 U.S. Property & Casualty Insurers See Solid Performance in First Half of 2021, According to Verisk and APCIA
Private property and casualty insurers in the U.S. posted strong net income growth in the first half of 2021 as the country continued to recover from the economic disruption caused by the COVID-19 pandemic, according to a report from global data analytics provider, Verisk, and the American Property Casualty Insurance Association (APCIA).
The report showed that U.S. insurers' net income rose to $37.5 billion in the first half of the year, up from $24.3 billion in the first half of 2020.
A recent press release highlighted "the annualized rate of return on average policyholders' surplus, a key measure of overall profitability, jumped to 7.9% in the first half of 2021, up from 5.8% in the first half of 2020."
The industry's combined ratio, a measure of underwriting profitability, also improved to 96.7%.
The report also associated the surge in economic activity with more insurance claims.
"We clearly see the imprint of the pandemic on the industry's performance through the first half of 2021," said Neil Spector, president of ISO at Verisk.
"Economic activity that was suppressed for much of the first half of 2020 has sprung back, bringing its own set of challenges," Spector added, emphasizing the need for accurate and continuously updated sources of underwriting data to help insurers manage a dynamic risk environment impacted by rising material costs and acute labor and supply chain shortages in many sectors.
Robert Gordon, APCIA senior vice president, policy, research and international, commented on the impact of natural catastrophes on industry performance in the first half of 2021.
"Net written premiums increased 7.5% in the first half of 2021 (10.3% in Q2) as insurers experienced similar increases in losses and loss adjustment expenses (LLAE) from ongoing record wildfires, floods and freezes, a spike in ransomware attacks, worsening inflation, and spiraling litigation costs."
"While insurers benefited from a positive swing in net realized capital gains, the industry faces ongoing headwinds from climate change, significant deterioration in auto claims severity, growing cyber liability exposure, and emerging losses from the impacts of long-haul COVID," he added.
"As the pandemic appears to unwind, the industry has been bolstering its balance sheet to protect consumers against increasing natural and man-made catastrophic exposures."
According to the report, incurred losses and loss adjustment expenses (LLAE) rose 6.9% in the first half of 2021 to $229 billion, significantly higher than the 0.8% increase in the first half of 2020. Catastrophe LLAE contributed $28.9 billion to total LLAE (up from $24.7 billion in the first half of 2020), while non-catastrophe LLAE grew 5.6% to $200.1 billion.
Genesis Legacy Solutions Issues Its First Loss Portfolio Transfer
Genesis Legacy Solutions (GLS), part of the Maiden Holdings, Ltd., recently issued its first Loss Portfolio Transfer (LPT) agreement through its Vermont cell to an affiliate of Cypress Property & Casualty Insurance Company.
"We are delighted to have issued this first LPT from our newly formed Vermont captive cell," GLS CEO Brian Johnston said.
"We worked closely with both the Cypress management team and the Vermont Department of Financial Regulation – Captive Insurance Division and now have a template for future transactions under the Vermont captive legislation," Johnston added.
The agreement reinsures Cypress' commercial general liability portfolio written in Florida and Texas from 2008 through 2020. Stonybrook Risk Management advised Cypress on the transaction.
Johnston shared, "GLS worked closely with the Maiden team on this transaction, and we look forward to executing many more. Our pipeline continues to be strong, and we are currently evaluating many opportunities from a variety of sources."
Risk Strategies Acquires Better Business Planning, Inc., Expanding National Employee Benefits Practice
Specialty insurance brokerage and risk management firm, Risk Strategies, has acquired Better Business Planning, Inc., an insurance agency specializing in employee benefits solutions.
Better Business Planning, a multi-generational family business with a strong presence in the Chicago area, specializes in designing and implementing customized employee benefits solutions, according to a press release. The firm delivers benefits services to education, nonprofits, law firms, architects and management services, industrial supplies, and agriculture, among other industries.
"Our specialist approach to risk enables us to consistently exceed client expectations," said John Greenbaum, National Employee Benefits Practice Leader for Risk Strategies.
"We are excited to bring Better Business Planning's expertise to our growing national benefits capabilities and welcome them to the Risk Strategies family."
For Better Business Planning, vice president Jeffrey Bellinger, said, "Risk Strategies was a natural fit for Better Business Planning and our clients."
"We now have the ability to leverage the strength of a top national broker to enhance our client partnerships while still providing service to our local communities."
The Better Business Planning team will join Risk Strategies' national employee benefits practice.
LimitFi & SiriusPoint Announce Multi-Year Underwriting Partnership and Strategic Investment
Limit Financial (LimitFi), a managing general agent (MGA) specializing in credit insurance and reinsurance solutions, and global specialty insurer and reinsurer, SiriusPoint Ltd. (SiriusPoint), have entered a multi-year underwriting capacity partnership.
For Prashanth Gangu, COO and president of insurance and services at SiriusPoint, credit insurance is an increasingly important product for many counterparties.
"We see a significant opportunity to capitalize on the rapidly growing market need for non-payment insurance that is not currently being met," Gangu said.
According to a press release, the partnership provides LimitFi with committed capacity to execute credit insurance, and SiriusPoint with immediate access to credit insurance opportunities underwritten through LimitFi's platform. LimitFi will provide an end-to-end solution including the origination, analysis, and management of all policies.
"LimitFi is committed to delivering value to (re)insurers by providing a platform that results in better risk taking, more diversified exposures and enhanced profitability for our partners," said Adam Budnick, co-founder of LimitFi.
"This new partnership will play an integral role in LimitFi delivering on its mission." &
Raquel Moreno is a staff writer with Risk & Insurance. She can be reached at
[email protected]
.