Risk & Insurance News + Notes: Mosaic Celebrates First Anniversary, Fenchurch Law Launches New Reinsurance Practice, and MedRisk Releases 2022 Outlook Report
Genesis Legacy Solutions enters adverse development cover agreement with Arizona-based medical risk retention group.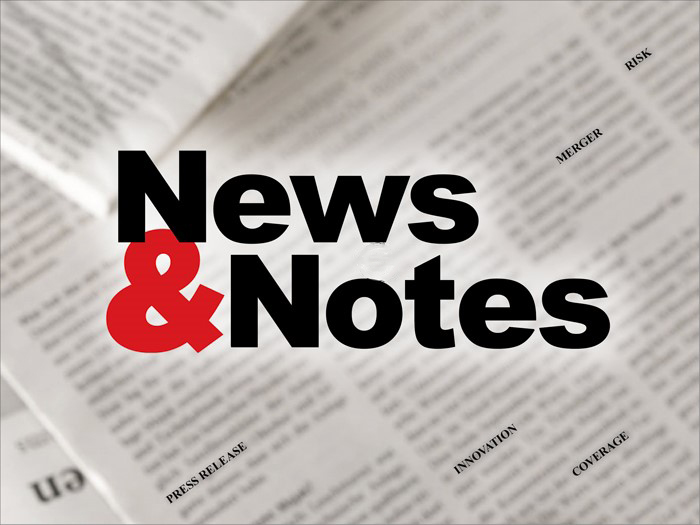 Mosaic Insurance Marks One Year in Business
Mosaic Insurance recently celebrated its first year in operation. Strategic tech and capital partnerships, the launch of six global specialty lines, and recruitment of 80 employees worldwide are just a few highlights from a robust list of accomplishments recorded in the company's inaugural year.
"This time last year, we hit the ground running as a start-up, armed with innovative plans and a highly motivated team," Mosaic co-founder and co-CEO, Mitch Blaser recalled. "Thanks to everyone involved, we've completed an outstanding first 12 months, achieving our planned targets."
"The concept, the timing, the underwriting focus, and, most of all, the people, were right — providing a unique opportunity to drive forward our ambitious goals," Mosaic co-founder and co-CEO, Mark Wheeler noted.
"We are grateful to our investors, clients, brokers, syndicated capital partners, and the wider corporate community for the huge support so far. With top specialty talent and an innovative tech platform, we're building longevity, so, this is just the beginning," Blaser added.
Read More: Mosaic Co-Founders and Co-CEOs Mark Wheeler and Mitch Blaser Talk to Risk & Insurance
Backed by private-equity firm Golden Gate Capital, Mosaic was established in February 2021 with headquarters in Bermuda and a new Lloyd's of London Syndicate 1609 as its centerpiece. The company now touts a clean balance sheet, no legacy technology, and a focus on six highly-technical, globally-relevant lines of business, according to a press release.
Mosaic's lines of business include transactional liability (M&A), cyber security, political violence, political risk, financial institutions, and professional liability.
"Amid the many challenges of operating in a mostly virtual, pandemic environment over the past 12 months, Mosaic has stayed on track and accomplished an extraordinary amount," noted Mosaic chief of staff, Lisa Fontanetta. "We're now focused on the future."
Archipelago Announces New AI-Driven Solutions for Commercial Property Insurance Buyers, Brokers and Insurers
Archipelago has announced an enhancement to its AI-driven technology data analysis platform to address exposures among buyers from all major corporations with insurable property assets.
"With over $7 trillion in total insurable value now managed on Archipelago, we are quickly emerging as the system of record for property owners' collection, management and enhancement of asset risk data," said Hemant Shah, CEO and co-founder of Archipelago.
Archipelago's new enterprise solutions for its SaaS platform include cloud management of property data, AI-enhanced enrichment of geo-coding, COPE and CAT-risk data, data insights and benchmarking.
Over the last 18 months, Archipelago has reported 15 times the growth of total insured value on its platform to reach $7 billion, according to a press release.
Fenchurch Law Launches New Reinsurance and International Risks Practice 
UK legal firm, Fenchurch Law, known for working exclusively for policyholders and brokers on insurance coverage disputes, has launched a new practice group focused on reinsurance and international risks.
The new group will focus on representing non-UK policyholders in complex and high value insurance disputes under policies placed either directly into the London market, or placed locally and then reinsured, into the London market, according to a press release.
The new practice group will also take instructions from captives and from non-UK insurers which have coverage disputes with London market insurers.
Commenting on the launch of the new practice group, managing partner, David Pryce explained, "The London market has a long and well-established reputation for paying claims."
"However, it is a fact of business life that occasionally disagreements do arise between policyholders and insurers, particularly when losses are large," he added.
"We've launched this new dedicated practice group to reflect the increasingly international nature of our work, which is itself a reflection of the way the London market continues to be a global leader in writing bespoke and complex risks."
Pryce affirmed that the launch of the new practice is also a means of "furthering our purpose of levelling the playing field between policyholders and their insurers, not just in the UK, but across the world."
MedRisk's 2022 Outlook Industry Trends Report Highlights the Value of Early Physical Therapy
Managed care organization, MedRisk, recently released its 2022 industry trends report which re-emphasized the ways timing and type of physical therapy directly influence workers' compensation claim outcomes.
MedRisk's 2022 Outlook Industry Trends report features several studies showing the benefits of early physical therapy, whether treatment targets low back pain, knee injuries or neck pain.
"The type of therapy delivered matters," said MedRisk's vice president of clinical services and provider management Brian Peers, PT, DPT.
The report includes an analysis of MedRisk data on the impact of early manual therapy. "When manual therapy is recommended, starting it early lowers the average medical cost per claim by 27%," Dr. Peers affirmed.
"We found that the value of early manual therapy increases with age and is particularly useful for complex cases," he added.
The report also contains a recap of 2021 legislative and regulatory decisions related to physical medicine in workers' compensation and presents findings of research on patient satisfaction, psychosocial factors, chronic pain, and COVID-19.
Genesis Legacy Solutions Completes Adverse Development Cover for Medical Risk Retention Group
Genesis Legacy Solutions (GLS), part of Maiden Holdings, Ltd, has entered into an agreement to provide an adverse development cover (ADC) to Arizona-based Applied Medico-Legal Solutions Risk Retention Group (AMS).
AMS provides medical professional liability coverage to individual physicians and physician groups. This ADC transaction helped AMS achieve an upgraded financial rating by AM Best, a credit rating agency specializing in the insurance industry. The agreement also enhances AMS' capital position.
"We are delighted to have worked closely with AMS and broker, BMS Re, to provide this ADC cover from our Vermont cell to achieve an A- rating by AM Best and stronger capital position for AMS," Brian Johnston, CEO of GLS, commented.
"GLS is well positioned for continued success in 2022 with a robust pipeline of legacy opportunities from a variety of sources." &
Raquel Moreno is a staff writer with Risk & Insurance. She can be reached at
[email protected]