Risk & Insurance News + Notes: Carisk Announces New Health Care Techn & Vermont Celebrates 1,200th Licensed Captive
A compilation of the latest announcements, partnerships and products that are likely to have an impact on the insurance industry today.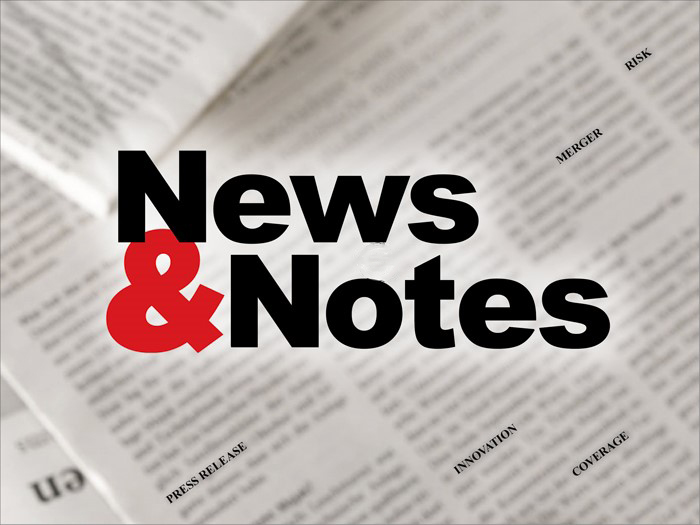 NIF Group to Acquire Pacific Coast E&S Insurance Services
NIF Group, along with its parent company Jencap Group, announced the acquisition of Pacific Coast E&S Insurance Services (PCES). With this acquisition, Jencap continues to grow as a specialty insurance distribution business, which includes managing general agents, program managers and transaction wholesale brokers.
NIF Group was originally formed in 1976 and later acquired by Jencap in 2016. The company provides both independent agents and brokers with a wide variety of insurance products.
PCES, primarily based in Santa Rosa, Calif., provides managing general agent facilities as well as excess & surplus lines to both retail brokers and agents.
John F. Jennings, president and chief executive officer at Jencap, commented on the acquisition: "Pacific Coast E&S Insurance Services is our 12th transaction since founding Jencap. This acquisition will contribute to our overall growth among the largest specialty insurance distribution platforms in the U.S."
Carisk Partners and HandsFree Health Announce New Technology Solution in Workers' Compensation
Carisk Partners (Carisk) and HandsFree Health recently announced their collaboration to deliver a new technology solution for critically injured workers. The solution is Wellbe, a "HIPAA compliant, voice-enabled, home health assistant," and an addition to Carisk's Pathways 2 Recovery solutions.
HandsFree Health worked to create WellBe with the intention of providing easy and accessible health care resources. The HandsFree Health platform, led by former health care executives, "will allow patients to contact their care team or access emergency services in a hands-free environment."
WellBe includes reminders on appointments and medication and a full health data base, answering questions patients or caregivers may have. Additionally, the platform is smartphone friendly, working with the already-existing Carisk mobile health application.
"Keeping patients motivated and fully engaged in their recovery process can be one of the most important aspects of an integrated treatment approach," said Alana Letourneau, MD, MBA, chief clinical strategy officer, Carisk Partners.
"The WellBe voice-activated digital assistant fosters independence and empowerment in patients with severe mobility impairments from the comfort of their homes."
Acrisure Launches Joint Venture with NFL Quarterback Russell Wilson and Singer Ciara
Global insurance broker Acrisure recently announced the launch of Evolution Advisors, LLC, a joint venture with NFL quarterback Russell Wilson and his wife, singer Ciara.
The venture will "focus on the insurance needs of minority-owned businesses and diverse communities across the United States."
The venture's main initiative includes creating greater access as well as more evenly distributed insurance products to minority-owned businesses.
Commenting on the venture, Wilson and Ciara jointly said, "We're excited to partner with Acrisure on this venture. We believe in the power of ownership, and our hope is that through this partnership, we can help create a path for diverse communities to build up their own businesses and infrastructure.
"It's always been important for us to give back to the community and now, more so than ever, we recognize that minority-owned businesses need to be afforded more opportunities."
"There is no more important mission than investing in and supporting businesses that promote equality. We are honored to partner with Russell Wilson and Ciara, who are each unmatched in their respective fields and committed along with Acrisure to providing opportunities for diverse communities," said Thomas Tull, chairman, Acrisure Technology Group.
Vermont Announces 1,200th Licensed Captive Insurance Company
Vermont Governor Phil Scott recently announced that the Department of Financial Regulation has licensed another captive insurance company, Sustainable Assurance Company, making it the state's 1,200th captive company.
Sustainable Assurance Company was formed by the Lancaster County Solid Waste Management Authority (LCSWMA).
LCSWMA focuses on maintaining environmental sustainability through its work, particularly in minimizing "the environmental impact on the communities they serve." Additionally, LCSWMA is actively working on a range of innovative sustainability projects with some in direct partnership with the private business sector.
LCSWMA partnered with captive management company Artex Risk Solutions to find adequate property coverage when Vermont became a top option.
Robert Zorbaugh, CEO of LCSWMA, commented, "Vermont has a rich history, proven experience, and has a great reputation in the industry. We wanted to do it right and partner with the best to make this happen. It was an easy decision for us."
Governor Scott also expressed his excitement for the state's accomplishment: "As Vermont reaches another significant milestone for our Captive Insurance industry, we look forward to continuing to grow our reputation as a global leader in this sector and utilize our position to bring more Captives to Vermont." &
Emma Brenner is a staff writer with Risk & Insurance. She can be reached at
[email protected]
.