News + Notes: Ryan Specialty Agrees to Acquire Griffin, CyberCube Announces a $50 Million Investment and More
The latest announcements, partnerships and products that will have an impact on the insurance industry today.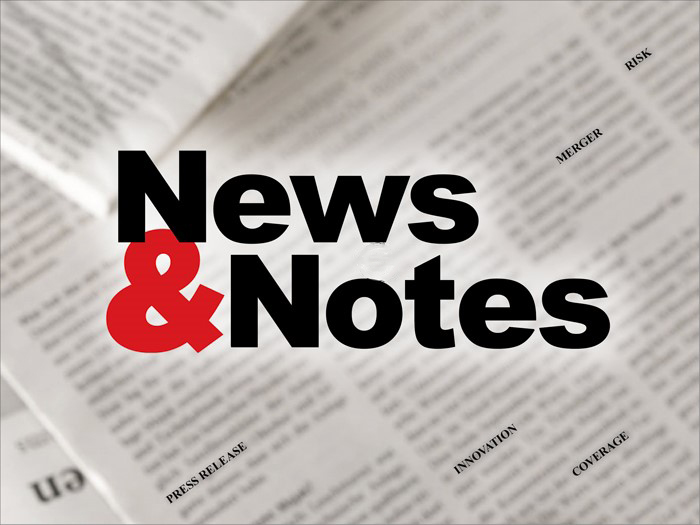 CyberCube Growth Advances Cyber Risk Analytics 
CyberCube, a cyber risk analytics technology platform built specifically for the cyber insurance industry, announced $50 million in additional growth capital from investment funds managed by Morgan Stanley Tactical Value (Morgan Stanley), with continued participation from all existing investors, bringing CyberCube's total capital raised to over $100 million.
CyberCube cloud-based products and modeling helps insurance organizations to quantify cyber risk, financial loss estimates, and industry benchmarks.  The tools provide insights into thousands of points of technology failure aiding underwriters in evaluating individual commercial risks during the underwriting process.
Pedro Teixeira, Co-Head of Morgan Stanley Tactical Value and Managing Director at Morgan Stanley, said: "CyberCube's role in the insurance markets and the wider economy has been recognized as pivotal by industry participants. It presents both a strong investment opportunity and the ability for Morgan Stanley to play a positive role in the ongoing mitigation of global cyber threats."
Scott G. Stephenson, former Chairman, President and CEO of Verisk, also participated in the financing and will join the CyberCube board as a director. Stephenson said: "Cyber risk management is one of the biggest threats facing businesses today and one of the greatest growth opportunities for the insurance sector. A key to unlocking this potential is the development of robust analytics tools to assist risk decision-making."
The new funding will fuel the commercial development of CyberCube's cutting-edge products and solutions to quantify cyber risk while accelerating go-to-market expansion in the global insurance, reinsurance and broking industry.
AIG Announces Five-Year Employment Agreement with Peter Zaffino
American International Group, Inc. (AIG) has entered into an additional five-year employment agreement securing Peter Zaffino, as president & Chief Executive Officer and chairman of the Board, through November 10, 2027. Zaffino joined AIG in July 2017.
AIG member companies provide a wide range of property casualty insurance, life insurance, retirement solutions, and other financial services to customers in approximately 70 countries and jurisdictions.
Speaking on behalf of the AIG Board of Directors, John G. Rice said, "Throughout his career, Peter has developed an excellent track record as a visionary, insightful leader, with an ability to execute comprehensive transformational programs that turn his strategic vision into tangible, measurable success. Under Peter's leadership, AIG has delivered on ambitious operational and financial objectives and is well positioned to continue to drive long-term value for the company's shareholders and other stakeholders."
Peter Zaffino stated, "Over the last few years, our global team has executed a complex, multi-faceted turnaround, and transformation to elevate AIG's performance, and deliver value to our clients, distribution partners, shareholders, and other stakeholders. We instilled a culture of underwriting and operating excellence, dramatically changed our risk tolerance, and transformed the way we work and collaborate across the organization. It is a privilege to lead AIG and our talented group of colleagues, and I look forward to continuing to build on our significant momentum on our journey to become a top-performing company and market leader in everything we do."
Ryan Specialty Acquires Griffin Underwriting Services
Ryan Specialty, an international specialty insurance firm, signed an agreement to acquire certain assets of Griffin Underwriting Services (Griffin), a binding authority specialist and wholesale insurance broker headquartered in Bellevue, Wash.
Griffin, founded in 1928, offers solutions across various specialty insurance lines, including earthquake and transportation. Griffin generated approximately $23 million of revenue for the 12 months that ended November 30, 2022.
Ryan Specialty, founded in 2010, provides distribution, underwriting, product development, administration and risk management services by acting as a wholesale broker and a managing underwriter with delegated authority from insurance carriers.
Tim Turner, president of Ryan Specialty and chairman and CEO of RT Specialty, commented, "We are excited to embrace the exceptional professionals at Griffin into Ryan Specialty. Griffin deepens our offerings in the Pacific Northwest, broadening our geographic scope and capabilities. Additionally, Griffin is a critical piece to our continual buildout of our national binding authority offering. We look forward to welcoming the Griffin team to Ryan Specialty."
Jason Griffin and Van Griffin, co-presidents of Griffin Underwriting Services, remarked, "At Griffin, we pride ourselves in developing top talent and offering a culture that empowers the individual. It is clear that Ryan Specialty is built on this same philosophy. We're excited about the opportunities that this new phase will create for our employees, and we look forward to the future as a part of the Ryan Specialty family."
Terms of the transaction were not disclosed. The acquisition is expected to close in January 2023. &
Peggy Fogarty is a business development and technical writing specialist. She is a graduate of the University of Arizona, where she received her master's degree in family and consumer sciences, and Rutgers University, where she received her bachelor's degree in anthropology and urban studies. She can be reached at
[email protected]