COVID-19 Made Grocery Store Workers Heroes. How Sprouts Stepped Up to Protect Them
Sprouts Farmers Market acted early and prioritized employee physical and mental health during the pandemic.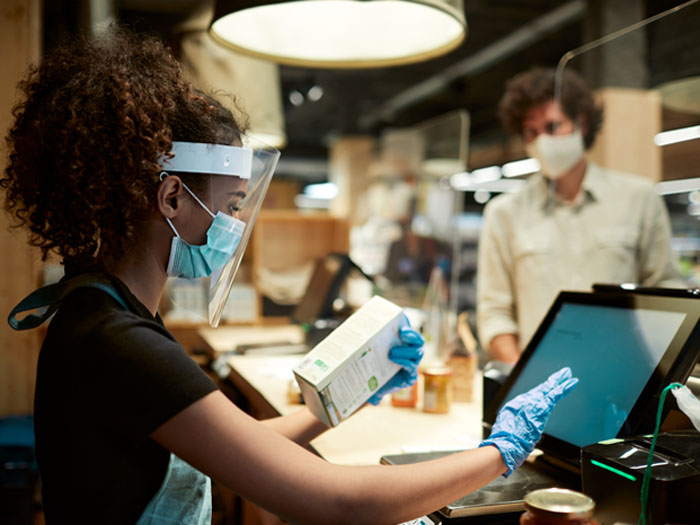 Heroes, frontline workers, essential employees — before COVID-19 these words were typically reserved for doctors, nurses or military professionals. Now, as the pandemic wears on, they're being applied to one of the most under-appreciated professions: grocery store workers.
They have had to contend with terrified customers, panic buying, food shortages and fear of catching the virus themselves in the aisles of supermarkets across the country. Closing was never an option; people need food to survive. So, clerks, deli workers, shelf stockers and others braved the pandemic so we could have dinner on our tables.
"A big question was how do we keep running during this time when there are shortages on certain products, when there are people who are worried about coming to the store, either to work or to shop?" said Alexis Pheiffer, deputy general counsel, at Sprouts Farmers Market.
The risks of the pandemic understandably throttled many grocery store chains, but Sprouts, which has more than 340 stores and 35,000 employees in 23 states across the U.S., wasn't one of them.
The company started preparing for the virus early on, just as it was overwhelming countries abroad, and their proactive response has helped Sprouts stay on top of worker safety when it comes to both physical and mental health.
The Early Bird
While other companies began their safety preparations in March as the pandemic began ramping up in the United States, Sprouts had been monitoring the situation since January.
Its safety team began posting updates and information from the CDC on the company intranet to make sure employees were equipped with the latest information. Since then, the intranet has become a resource hub that employees at Sprouts stores, distribution centers and support offices can rely on.
"A lot of the early credit goes to the safety team," Pheiffer said. "They were very in-tune with the developments on COVID from the beginning."
The safety team also began ordering personal protective equipment (PPE), specifically face masks and coverings, in January, back when no one thought the pandemic would seriously affect the U.S.
"At the time, we thought we were doing this really more as a precaution, and then it turned out to be one of the more valuable early steps we had taken," Pheiffer said.
As cases started increasing in Seattle and along the rest of the West Coast, Sprouts started cancelling large events like job fairs and restricting business travel.
In March, the company activated its formal crisis management process, which brought together employees from human resources, supply chain, operations, merchandising, risk management, safety, IT, finance, communication and legal and claims departments to help keep employees safe.
"I think Sprouts acted early and that was important," said JD Taylor, account manager at CorVel, Sprouts' TPA. "They acted in most states before they even began some kind of shelter-in-place order."
Keeping Essential Workers Safe: Physically and Mentally
Its early efforts helped Sprouts stay ahead of the virus, Still, things were progressing quickly. By March, U.S. case counts were rising and governors were issuing shelter-in-place orders.
Studies from some states have found that counties with high numbers of essential workers have higher COVID case counts. Data from the Brookings Institute also notes that essential workers have increased risk — 79.1% of grocery store clerks frequently have the types of face-to-face interactions that commonly spread the virus and 27.6% are frequently exposed to disease.
To help tamper the spread of the virus, Sprouts upped its sanitation efforts. Its safety and operations team developed a detailed protocol, complete with pictures, to help staff protect themselves and others.
The HR team also developed a contact tracing system to help stem the spread. They follow up with any employee who reports an illness and are working with local public health departments to support their efforts.
"They have worked tirelessly," Pheiffer said.
Sprouts has also been acutely aware of the mental stressors of the pandemic. Its even hired additional staff to make sure employees weren't feeling exhausted or overworked and that the programs they've implemented are sustainable for the long haul.
Grocery store workers face unique risks when it comes to mental health during the pandemic. Customers resistant to donning masks have been yelling profanities at and threatening workers.
To help address situations like this, Sprouts has made sure its employees have received de-escalation training, so that they may calm customers down. The company also continually reminds employees of the resources they have — time off, additional trainings, the ability to talk to HR if they're feeling anxious — to help cope during this time.
Employee Satisfaction as a Metric of Success
With the pandemic still wearing on, Sprouts is still in the process of reviewing the metrics.
Its working with CorVel and actuaries at Oliver Wyman to track its response and are participating in a study that compares loss runs from companies in a variety of industries to see how it has been affected by the pandemic.
"Data collection has been a really big piece for them," Taylor said. "Their curiosity has really helped them move forward and take a more high-level approach to COVID claims."
Even though the results aren't fully in yet, Pheiffer said that there's one metric that proves Sprouts' response has been a success: employee feedback.
"One of the big measures that tells us that we're doing a lot of things right is the subjective feedback we're getting from our team members who feel supported," Pheiffer said. "Our team members really feel like we've gone the extra mile for their safety."
Putting employees first is something that has shaped Sprouts' response to safety issues for some time. Last year, the company pivoted its workers' comp program towards a worker advocacy approach.
"I give a lot of credit to our workers' compensation team for being nimble enough to make a switch, to really be focused on answering team member questions and being the team members' resource and partner throughout the work injury process," Pheiffer said.
"They dug a little deeper from an empathy perspective and saw that this would be a difficult time if you're a frontline worker," Taylor said.
"It's a lot different for people who have to go to a place where transmission is possible and sometimes likely. Sprouts dug into that and said, 'We know this could happen, what's the best way to support our workers?' And that approach will win every single time." &
Courtney DuChene is a freelance journalist based in Philadelphia. She can be reached at
[email protected]
.