Built to Last: How CorVel and ReedGroup's Integrated Disability Management Program Is Changing the Absence Management Game
In order to help their clients succeed in disability management, CorVel and ReedGroup partnered to create an Integrated Disability Management program that gets results.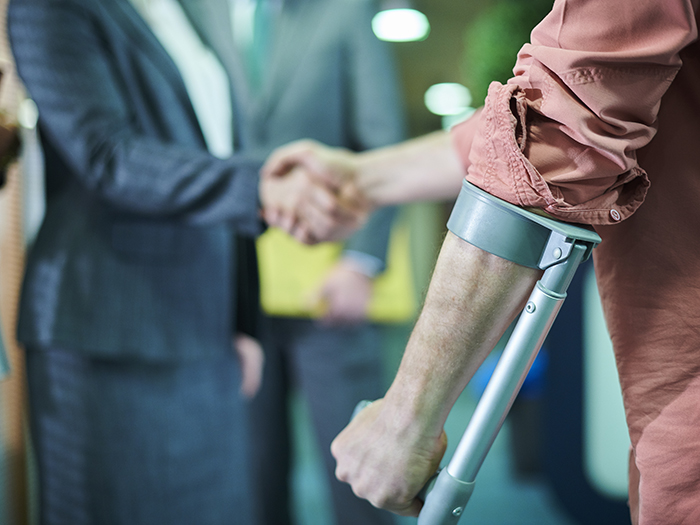 Employees out of work due to illness or injury are facing more than just doctor visits and time off. They are entering into an unfamiliar process about which they may have a limited understanding. Concepts like workers' compensation, short-term disability management and leaves become their new reality.
For employers, employees are their biggest assets. Having an employee out on leave due to injury or illness is costly, not just in replacement costs to fill their open position, but also the cost of care and recovery.
"Studies have shown that employers can spend anywhere between two to five times the amount of replacement salary in additional costs," said Diane Blaha, CMO, CorVel. According to the Spring Consulting 2018 Integrated Employer Survey, employers that integrate WC, STD and FMLA have a higher propensity to achieve savings in terms of reduced lost time and decreased claim incidence, compared to employers that do not integrate WC into their leave management program.
An employee who performs the same tasks in their day-to-day role holds a vast amount of knowledge for what they do. If they are out, production can lag because the person with the know-how is gone. Employees and employers are also conscious of return-to-work, but if an employee returns too soon, they risk reinjury.
For companies like CorVel, which offers risk management strategies and insight into workers' compensation, returning a worker to the job at the appropriate time is paramount. Not only is this diligence rewarded in a successful return-to-work story, but this attention to finding the right time also reduces the total costs for clients.
"We want to be able to look at our data and understand disability duration," said Blaha. "We want to be consistent. We want the process to be streamlined for employer and employee."
The onus of deciding whether an injury or illness should be handled under workers' compensation, through short-term disability or with paid time off should not come down to the employee's or the employer's decision, she said.
"We want to be able to say to the employee, 'We want you to get better, we know you're not coming into work tomorrow, we'll take care of the rest,'" Blaha explained. "And we want to set up a system so that the employer can look at the situation through an absence management lens."
This desire drove CorVel to develop an Integrated Disability Management (IDM) program that its clients could rely on. The company had the underlying expertise in managed care, but also knew it needed to grow in its understanding of state leave programs as well as short-term disability.
Enter ReedGroup.
A Partnership Built to Last
ReedGroup, founded in 1977, prides itself on delivering a high-quality absence and disability management program.
Allison Morgan, senior sales executive at ReedGroup, explained that the company's founder, Dr. Presley Reed, devoted his time to developing a set of guidelines for employers, insurers or TPAs to gauge the appropriate time for an employee to return to work after being out on leave.
"ReedGroup offers solutions specific to absence management including short- and long-term disability management," said Morgan. "Our absence management solutions include leaves, ADA, self-funded STD and LTD."
As Blaha and her team at CorVel began to develop their IDM program ideas, the company's existing relationship and past projects with ReedGroup stood out. Blaha and Morgan said that three key elements solidified their partnership: CorVel and ReedGroup had a passion for returning employees to work at the appropriate time; they both had a clinically driven and focused mindset; and each had technology solutions that could benefit such a program.
"We both looked at each other and said, 'You know what? We think you're the best in the industry at what you do and we're the best at what we do,'" Blaha said. "It was clear that we should partner with this group that had the same exact level of quality and service in its delivery model."
United by Three Core Elements
Return-to-work is a big part of any disability management program. For both CorVel and ReedGroup, however, the goal for their IDM program was to make certain injured and ill workers were returning at the appropriate time.
"When a worker returns to their job before they are medically ready, the risk of reinjury increases," Morgan explained. "That, in turn, can become more costly for the employer."
To determine the appropriate moment for return-to-work requires skilled professionals who understand the injury or illness at hand, the employee, and the nuances of the job to which they are returning. The on-staff nurses with ReedGroup and CorVel are just the start when a claim comes in.
"The nurses will dive into cases or claims and work with the healthcare providers to discuss opportunities for return-to-work," said Morgan.
Additionally, ReedGroup has brought clinicians together to continue to update its guidelines on return-to-work. Morgan explained that these clinicians have peer-to-peer conversations regarding absence management in order to determine how different treatments or technologies in medicine impact a claim's duration. Utilizing a foundation of MDGuidelines, ReedGroup's wholly owned disability guidelines, provides the foundation for ReedGroup's perspective on return-to-work decisions. With content independently provided by the American College of Occupational and Environmental Physicians, MDGuidelines provides evidence-based clinical decision support for ReedGroup's clinicians.
Different socioeconomic factors also impact return-to-work. "We see more and more rural hospitals and healthcare systems closing. It's harder for workers to get care in those areas," said Morgan. "So, we adjust our methodology to identify pockets of the country where it may be difficult to obtain care in a timely manner and then adjust return-to-work from that."
Having the clinicians and nurses involved in the return-to-work guidelines links the second core element uniting CorVel with ReedGroup: clinical support. At ReedGroup, case managers have constant access to clinical teams.
"In workers' compensation, the first exposure in a claim is typically with the claims adjustor asking the worker questions — what happened, did someone witness the injury, how long have they been employed," Blaha explained.
"Our model is different. We come at it from a clinical perspective."
She said the idea is to avoid heightening fear in the worker or unintentionally placing blame. The clinical approach gets the worker in front of a nurse who asks about symptoms and other ailments specific to their injury.
"We're showing, through the clinical approach, that we want to get them taken care of and back to the job site when appropriate," said Blaha.
Finally, a focus on innovation and technology brings the CorVel-ReedGroup IDM program together.
CorVel and ReedGroup both understand the importance of the integration and use of technology within a disability management program. As an ever-changing industry, technology paves the way for success. Integration supports tracking and reporting concurrent FMLA, applying the same disability duration guidelines and the same focus on RTW opportunities for both occ and non occ injuries/illnesses. The value can be seen in reduced disability duration, improved productivity, and employee satisfaction.
"We can't predict when an injury might take place," said Blaha, "but we can look to the data we've collected on similar injuries and use our technology to determine the best interventions that will positively impact the claim."
On CorVel's side, getting that kind of data into the hands of the claims adjustor enables the team to find and enact the best solutions possible.
But the beauty of technology is that there are many uses for it. On ReedGroup's side, technology plays a role in keeping both employer and employee on the same page.
"We have a robust self-service portal that enables communication capabilities," explained Morgan. "Supervisors can go online and help plan an employee's schedule thanks to the technology that exists."
Like Lightning in a Bottle
For Blaha and Morgan, the number one goal of the Integrated Disability Management program is to help employers and employees alike. The joint efforts of their teams have helped to create a system that provides clients with the tools and support system they need for successful results for both occupational and non-occupational disability absences.
"If you have an integrated approach, you trust that the focus is access to care and facilitation of RTW and your employees are being treated consistently the same whether their absence is occ or non occ related ," said Blaha. "You're looking for ways to help them through the process and bring them back to a productive environment."
"We've come together to create a streamlined, efficient experience for employers and their employees," said Morgan. "We want to demonstrate to them that when they are faced with any course of leave, whether it be occupational or non-occupational, we have this program in place to help them through it."
To learn more, visit: https://www.corvel.com/services/disability.
This article was produced by the R&I Brand Studio, a unit of the advertising department of Risk & Insurance, in collaboration with CorVel. The editorial staff of Risk & Insurance had no role in its preparation.
CorVel is a national provider of risk management solutions for employers, third party administrators, insurance companies and government agencies seeking to control costs and promote positive outcomes.