Marsh Broker Wendy Thomas Recognized as a 2023 Workers' Comp Power Broker
Wendy Thomas, Senior Vice President, Marsh
After a catastrophic workplace accident, one client was thankful to have Wendy Thomas by their side.
When the accident occurred, the employee was living in one state but working in another. The company wanted to do what was best for the worker and their family but needed to navigate which state's workers' comp laws this claim fell under.
Throughout the process, the client reiterated to Thomas that the injured worker and their family should be top priority. This was a tragedy, and they wanted to make it right in whatever way they could.
"She magnificently handled it … She came up with some really good ways of how to … talk with the carrier, how to deal with the family," the client said. "We really wanted to do what was best for the family."
The client went on to applaud Thomas' knowledge of the industry, a sentiment echoed by many of the people who work with her. As a broker, she regularly helps companies organize claim reviews and brainstorms strategies for closing any lingering cases, all while prioritizing getting injured workers proper care.
When another client completed a number of acquisitions, Thomas was by their side as they reassessed their workplace safety exposures. She was able to identify a number of inefficiencies and opportunities for savings within their program. Her dedication makes her a top-notch resource: "She's the go-to person for anything regarding workers' comp," a client said. "She's basically like a partner [to us]."
2023 Workers' Comp Power Broker Winners and Finalists
---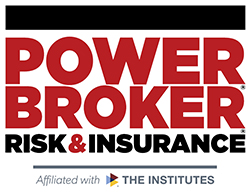 What is a Power Broker?
A Risk & Insurance Power Broker® is an individual who stands out among their peers for the exceptional client work they have delivered over the past year. While brokers play many key roles in the insurance industry and risk profession, a Power Broker® award recognizes problem solving, customer service and industry knowledge.
Our goal is to broadly recognize and promote outstanding risk management and customer service among the brokerage community.
Who selects the winners?
Power Brokers are selected by risk managers based on the strength of the testimonials they provide to a team of 15 Risk & Insurance editors and writers.