Marsh Broker Randall Hollomon Recognized as a 2023 Marine Power Broker
Randall Hollomon, Senior Vice President, Marsh
Everything is big in Texas, but nothing more so than the state's history. And within maritime history circles, nothing has been bigger than the restoration of the battleship USS Texas, a combat veteran of both world wars. Broker Randall Hollomon has been tasked with its insurance during repair.
"Randall has worked with me since late 2019 on the Battleship Texas repair," said a project official. "We had to arrange for a 108-year-old [28,700-ton] warship to be towed 35 nautical miles to dry dock for some badly needed repairs on the hull and structure. Our lead underwriter pivoted from the project around February 2022, only several months before the tow, which almost torpedoed the project as a whole.
"Randall was able to circle the wagons and negotiate with another underwriter to take lead," the official continued. "He then split the protection and indemnification as well as hull-and-machinery policies across the U.S. domestic and London markets to ensure 100% fulfillment of our requirements for the project. Inception was just a day before tow commenced. It was an extremely challenging task to define the risk to the underwriters considering the age, condition and use of the ship as a museum vessel. It was not a standard risk to say the least."
The official concluded: "We can confidently say that, without Randall, the Battleship Texas Repair project would not be a success to date. It's still ongoing, but the tow to dry dock is complete, which was the portion of the project comprising the largest exposure."
2023 Marine Power Broker Winners and Finalists
---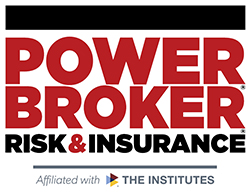 What is a Power Broker?
A Risk & Insurance Power Broker® is an individual who stands out among their peers for the exceptional client work they have delivered over the past year. While brokers play many key roles in the insurance industry and risk profession, a Power Broker® award recognizes problem solving, customer service and industry knowledge.
Our goal is to broadly recognize and promote outstanding risk management and customer service among the brokerage community.
Who selects the winners?
Power Brokers are selected by risk managers based on the strength of the testimonials they provide to a team of 15 Risk & Insurance editors and writers.