Gallagher Broker Will Giambalvo Recognized as a 2023 Real Estate Power Broker
Will Giambalvo, Managing Director, Gallagher
When your business occupies a particular niche, it's great to have an insurance broker who knows that niche like a partner.
"We've got a portfolio of buildings in South Florida," said one of Will Giambalvo's clients, whose niche is investing in buildings where the government is the tenant.
"Will came up with a wind deductible strategy where we pay a little bit more in premiums, but it allowed for a buydown of our deductible, which in our business provided more of a flattening out of what our risk was over a period of time. He also got for us rent loss insurance, [so if] we lose the government for a period of time, we can get up to 18 months of rental coverage on it — environmental, mold, cyber insurance, you name it."
The client added, "I value him as a partner. When we're looking at new buildings or new leases, I get him involved up front to take a look at the language that's involved, to make sure that we've got our bases covered, either from a loan documentation standpoint or access agreement standpoint."
This isn't the only client who feels that way about Giambalvo.
"To have a partner with an understanding of the different markets and submarkets and their unique risks has been invaluable," said a national real estate portfolio manager.
"I can't explain how elated I am to have formed this partnership with Will and his team. They have really helped to lighten the load on my desk, and their customer service is off the charts."
2023 Real Estate Power Broker Winners and Finalists
---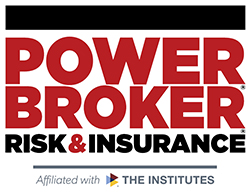 What is a Power Broker?
A Risk & Insurance Power Broker® is an individual who stands out among their peers for the exceptional client work they have delivered over the past year. While brokers play many key roles in the insurance industry and risk profession, a Power Broker® award recognizes problem solving, customer service and industry knowledge.
Our goal is to broadly recognize and promote outstanding risk management and customer service among the brokerage community.
Who selects the winners?
Power Brokers are selected by risk managers based on the strength of the testimonials they provide to a team of 15 Risk & Insurance editors and writers.