Gallagher Broker Matt Jakubowski Recognized as a 2022 Nonprofit Power Broker
Matt Jakubowski, National Director, Gallagher
When Wesley Family Services opened a multi-use building for its clients with behavioral health and other challenges about a year ago, "Matt dug in and spent a lot of time" researching the right policies for the complicated transaction.
Part of the complexity came from establishing a condo association and five legal entities to accommodate the dual tax credit structure, said Emily Pietrzak, vice president, finance. "It's pretty incredible that a broker was familiar with the kinds of things that can come up."
Joanna Nevadomski, executive director, The Arc of Burlington County, also noted his empathy for people with disabilities.
"Yes, he saves us money. He also gets us the best coverage for what we do," such as workshops and webinars on how to work onsite safely — an urgent issue for a provider of on-site disability services. And he brought the organization's cyber insurance into the 21st century. "We have a social worker mentality," Nevadomski said, and such things weren't on their radar screen.
When Steve Jobin, CEO, Raritan Bay Area YMCA, performed annual maintenance on the facility's swimming pool himself, he flooded the basement, offices and storage space of the building they lease from the city.
"Matt picked up the phone on a Saturday morning and said, 'I'll take care of it.'" He drove the two hours to Perth Amboy the following morning. He sorted out with the city whose insurance covered what "so we could focus on getting our space fixed," Jobin said.
Ten days later, kids were back in classrooms.
2022 Nonprofit Power Broker Winners and Finalists
---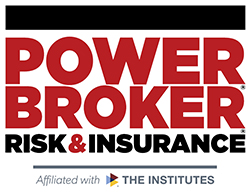 What is a Power Broker?
A Risk & Insurance Power Broker® is an individual who stands out among their peers for the exceptional client work they delivered over the past year. While brokers play many key roles in the insurance industry and risk profession, a Power Broker® award recognizes problem solving, customer service and industry knowledge.
Our goal is to broadly recognize and promote outstanding risk management and customer service among the brokerage community.
Who selects the winners?
Power Brokers are selected by risk managers based on the strength of the testimonials they provide to a team of 15 Risk & Insurance editors and writers.