ATM Thefts Rising. 5 Ways Financial Institutions and Their Insurers Can Protect These Critical Assets
Threat actors aren't just in it for cash these days; they want the whole ATM instead.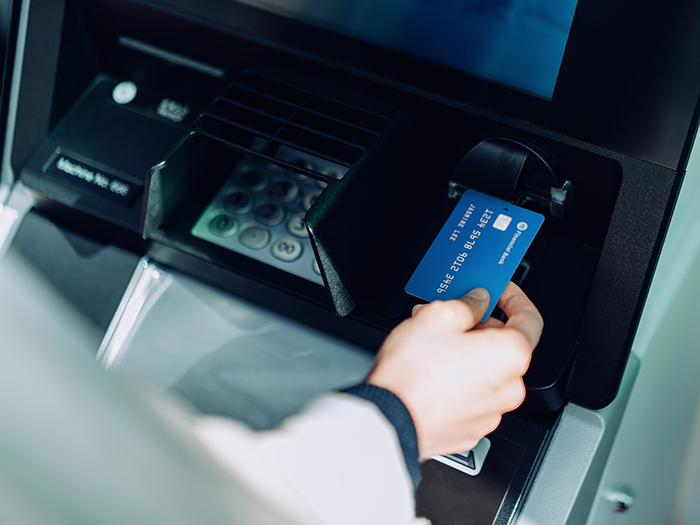 It's a modern day visitation from Bonnie and Clyde. There was a 10% increase in ATM thefts last year, compared to 2020, the FBI's 2021 Bank Crime Statistics revealed.
A mixture of factors contributed to this uptick, including the global recession triggered by the COVID-19 pandemic. During the early days of COVID, banks may have had limited in-person operations, making it difficult for someone to come in and rob a bank, but their lobbies where ATMs are often kept were still open. 
"After 2009, we saw a great increase in bank robberies," said Tracey Santor, CPCU, AFSB, AIC, second vice president, bond product manager for financial institutions at Travelers. 
"At that time, I attributed it to people being out of work and desperate to get money," she said.
"Now fast forward 10 years, and when COVID hit, the bank lobbies were closed, so if somebody had the idea of going and robbing a bank, that wasn't going to work. Maybe somebody came up with the idea — let's try the ATMs. "  
Losses related to ATM thefts began to be reported between July and August of 2020 and have been increasing since then, Santor estimated. She expects this trend will likely continue at least over the short term.
"[Thieves] developed a pattern, a structure of doing this, that is becoming very consistent. It's proven to be pretty lucrative for them," she said.  
How to Keep Your ATMs Secure from Theft
Santor shared four key pieces of risk management advice for banks when it comes to protecting against ATM thefts.
1) Consider the ATM's location
One way to prevent ATM theft is through making sure the device isn't in a location where it might be an easy target. Moving ATMs away from doorways or exterior walls and ensuring there is bright lighting around the device can go a long way in deterring a would-be thief. 
If your ATM is outside, removing any landscaping that may hide the device is a smart move. That way, if someone attempts to steal the ATM, there will be plenty of onlookers to report it. 
2) Secure the ATM cabinet
Make sure your ATM cabinet is properly secured to the floors and walls. That way, it will be more difficult for thieves to remove. 
3) Security, security, security
Surveillance cameras, motion detectors and other security devices are key to preventing ATM thefts. 
Visible cameras and other security devices can act as a deterrent to thieves who may think they'll be more likely to be caught since there are so many cameras nearby.
"You want these people to know that they're being recorded," Santor said.
If a theft is attempted anyway, you can always review the footage. 
4) Alarm system and post-theft measures
If your ATM is stolen, alarm systems, GPS trackers and other tools can help you relocate the device and potentially recoup some of your losses. 
Santor recommended inserting a dye packet into your cash box. If a thief is just trying to steal money from an ATM without taking the whole device, they will try to find one without a dye pack, because they know it may go off.    
"Putting security measures in practice, whether it's cameras or dye packets, labeling the ATMs that these measures are in use can also be a deterrent," she said.
5) Check your insurance policy
Since ATM thefts aren't going away any time soon, Santor recommended financial institutions check with their insurers to make sure they're covered in the event of an ATM theft. 
"There's often a big cost in repairing the structural damage that's done when they rip ATMs out of a place, so in addition to the cash that's stolen, there's some considerable expenses the bank or the insurance company has to pay for," she said. 
Property and casualty policies will likely cover the damage done to the building while the theft occurred. Insureds will want to check their financial bond policies to make sure they have an ATM endorsement if they want those losses to be covered. &
Courtney DuChene is a freelance journalist based in Philadelphia. She can be reached at
[email protected]
.