Alternatives to the High Cost of Topicals for Pain Management
CorVel has witnessed topical costs rise following the recent drop in opioid prescriptions, and now offers alternatives to manage their expense without impacting care.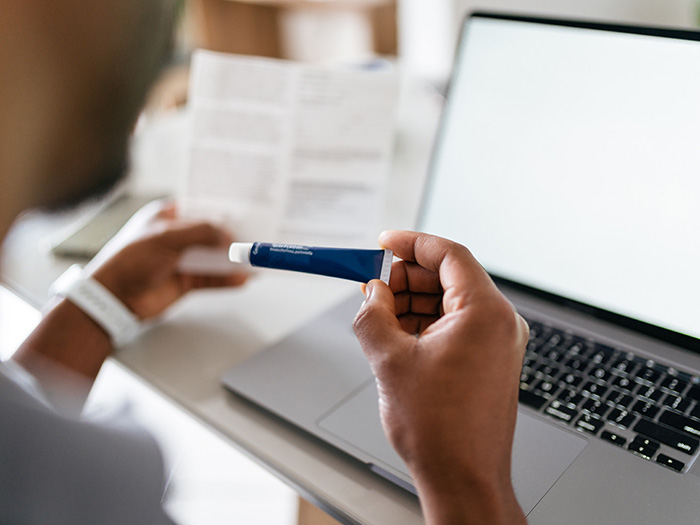 As health care providers across the nation divert patients away from opioids — now deemed a dangerous class of medications for pain management — the use of some high-cost topicals has soared.
CorVel, a national leader in risk management with over 20 years of experience providing pharmacy benefit management services, estimates a 56% increase in topical medication dispensing over the past five years based on pharmacy data across its book of business.
"It's been a dramatic and costly increase for employers," said Ryan Hamm, Pharm. D., clinical pharmacist at CorVel. "We are paying close attention to the dispensing of some high-cost topical analgesics and actively working to rein in costs."
One of CorVel's approaches is to evaluate the prescription of high-cost topicals and, when needed, convert them to alternative medications that are less costly but just as effective for injured workers.
Use of Topicals Varies by State
Hamm's assertion that high-cost topicals are unnecessarily driving up costs is backed by the Workers Compensation Research Institute (WCRI), which completed a study in December 2021 that found the cost of some topicals for pain management is increasing the cost of workers' compensation claims dramatically in some states.
The WCRI studied the prescribing practices and prices for topical analgesics across 28 states and concluded that states had a 20-fold variation in average payment per claim depending on the type of analgesics prescribed, as some states use cheaper versions and others use much more expensive ones. In New Jersey, the average payment was $139, as compared to $2,712 in Illinois, the study found.
What Are Topicals?
Unlike oral medications that are taken in the form of a pill, tablet or injectable that is administered through a needle or syringe, a topical medication is a patch, cream or ointment applied directly to a specific area of the body, usually through the skin, to treat localized conditions or pain.
Because they work locally rather than systemically, topicals are generally considered safer. They provide a range of benefits that includes fewer drug interactions, fewer unwanted side effects, and lower risk of addiction, overdosing or other toxicities for the patient.
Decreased Use of Opioids
The use of opioids has decreased from nearly 216 million prescriptions in 2006 to nearly 143 million in 2020, according to the Centers for Disease Control and Prevention (CDC).
Hamm applauds the drop in the prescription of opioids because it is making injured workers safer. But, he said, it has resulted in increased use of high-cost topical analgesics, known as private-label topicals, that needs to be addressed.
What Are Private-Label Topicals?
Private-label topicals are independently manufactured products with common over-the-counter ingredients such as methyl salicylate, menthol, capsaicin and lidocaine. These individual medications are effective at relieving topical pain and inflammation, but private-label combinations of these medications are not FDA-approved. They contain various strengths and combinations that also can be found in less costly versions.
"Many of these products are already available in over-the-counter or prescription products, and they are just as effective and much less expensive," Hamm said. "Private-label topicals can cost thousands of dollars for a month's supply, while available alternatives can cost well under $100." Examples of these products include Terocin and LidoPure.
Formularies Linked to Rising Costs
The increasing use of expensive private-label topicals may also be attributed to state-mandated formularies or drug lists established to provide high-quality care using the most cost-effective medications.
In some cases, they may be doing just the opposite, because these drug lists need to make distinctions regarding cost. Formularies can unintentionally lead to increased costs as pharmacies lean toward dispensing expensive private-label topicals rather than less costly but just as effective alternatives.
How Is CorVel Tackling High-Cost Topicals?
CorVel proactively addresses the increasing costs of topical analgesics by analyzing both its in- and out-of-network pharmacy data. Details analyzed include tracking where these medications are being prescribed, by whom they are prescribed and the claim impact.
"CorVel is using data to identify prescribers and pharmacies that are more likely to prescribe or dispense high-cost topical medications," Hamm said.
When an issue is flagged, CorVel resolves rejections for high-cost topical medications by working with the dispensing pharmacy and prescriber to convert these prescriptions to more cost-effective, therapeutically equivalent alternative medications.
An example of a private-label topical that has inflated costs is methyl salicylate. Methyl salicylate is a medication that is effective at relieving topical pain and inflammation. Some states that manage their own workers' compensation formulary have included methyl salicylate. However, there is no distinction as to which formulation was intended when it was included — the formulary simply states "methyl salicylate."
Private-label manufacturers have exploited that vagueness and brought various high-cost formulations of the medication to market. It can be reasonably assumed that when states included methyl salicylate in their formularies, they intended to include cheaper over-the-counter preparations instead of expensive, prescription-only formulations. In this scenario, CorVel would suggest using the lower-cost formulations or contacting providers and pharmacies for further rationale.
Joseph Hunt, Pharm. D., clinical pharmacist at CorVel, explained, "By making meaningful clinical interventions such as this, patients can still receive the efficacious and cost-effective pain management therapy they need."
Another way CorVel is addressing the high cost of topicals is through education and communication with regulating entities. The company is working with states' workers' compensation bodies to promote cost-effective therapies that do the job as well as or better than private-label topicals.
CorVel's Overall Program to Limit Pharmacy Costs
The company has a high-touch pharmacy benefit management program, which was established to minimize patient risk while ensuring that prescribed medications help injured workers recover, and to help employers avoid unnecessary and escalating costs.
In addition to converting high-cost topical medications to cost-effective equivalents, CorVel's overall approach to minimizing pharmacy spend includes opioid management and enforced generic dispensing.
CorVel has in-house pharmacists who work with nationally certified pharmacy technicians to confirm that prescriptions are appropriate for an injured worker's condition and are also the most cost-effective option.
On behalf of its clients, CorVel monitors spending on pharmaceutical care for injured workers by tracking bills throughout the claims process and raising a flag when a prescription needs to be evaluated to determine if it is the most appropriate solution.
The Future
Looking to the future, Hunt said CorVel will continue to focus on minimizing the use of high-cost topicals for pain management while at the same time ensuring that injured workers receive the safest and most appropriate medical care possible.
"With the use of high-cost topicals on the rise," Hunt said, "we're committed to ensuring that they are chosen wisely, with the safety of the injured worker and cost in mind."
To learn more, visit: https://www.corvel.com/.
This article was produced by the R&I Brand Studio, a unit of the advertising department of Risk & Insurance, in collaboration with CorVel. The editorial staff of Risk & Insurance had no role in its preparation.
CorVel is a national provider of risk management solutions for employers, third party administrators, insurance companies and government agencies seeking to control costs and promote positive outcomes.