Risk & Insurance News+Notes: UFCIC Now Accepting Cryptocurrency, Swiss Re Releases SONAR 2021 Report & More
A compilation of the latest announcements, partnerships and products that are likely to have an impact on the insurance industry today.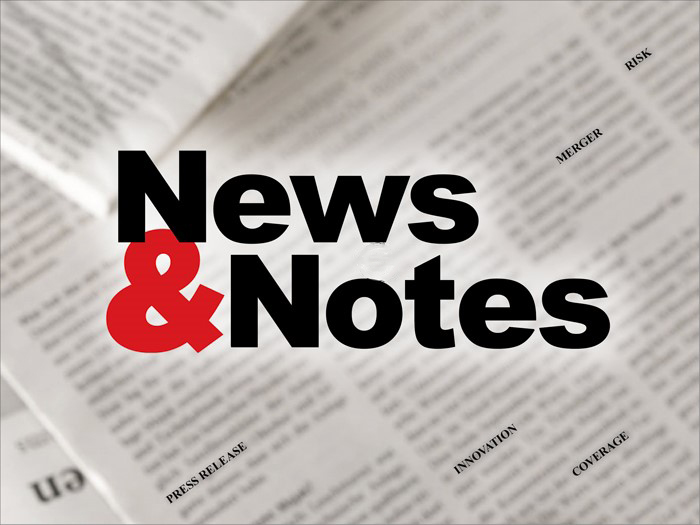 Swiss Re Releases SONAR Report Highlighting Top Risks
Swiss Re's recently released "SONAR 2021: New Emerging Risks Insights" report touches on the most prominent risks of 2020 that are likely to have an impact on the post-COVID risk landscape. Swiss Re believes these risks should remain on risk managers' radars.
Risks included in the report include "zombie companies," companies that have been able to remain functioning by COVID-19 government stimulus funds, a widening inequality gap, new transportation methods that could increase liability risk, and diversity gaps in various product testing.
Swiss Re's Group chief risk officer Patrick Raaflaub said, "When COVID-19 emerged in late 2019, few could have predicted the magnitude of its impact. Many of the actions taken to mitigate the pandemic have themselves created new risks, from the widening inequality gap to the dangers of restarting under-maintained industrial operations."
He continued, "As re/insurers, it is essential that we have the best possible understanding of these emerging risks. It is also important to remain vigilant on the emerging risks that are already known — especially regarding climate change — as these will impact us for years to come."
Mitchell | Genex | Coventry Announce Acquisition of QualCare Alliance Networks Inc.
Mitchell | Genex | Coventry announced the completion of its acquisition of QualCare Alliance Networks Inc. (QANI).
QANI is a managed care organization that serves New Jersey, Pennsylvania and New York customers. With this acquisition, Mitchell | Genex | Coventry strives to enhance its status as a leading provider network, care management and workers' compensation service.
With the acquisition, QANI will become a component of the Coventry organization.
"Today Coventry takes great strides in meeting our continuous goal of offering the most comprehensive provider networks in the workers' comp and auto markets," said Art Lynch, Coventry president.
"Investing in QANI demonstrates the commitment Mitchell | Genex | Coventry are making to constantly evaluate opportunities that deliver the right solutions for our clients."
Joyn Insurance Announces Partnership with SiriusPoint Ltd.
Joyn Insurance, an insurance technology company, announced a partnership and investment with SiriusPoint Ltd. The partnership will serve to "transform small- and mid-market U.S. commercial insurance through digital technology, data analytics and automation," a press release announcing the partnership said.
Specifically, Joyn Insurance will work to serve the needs of businesses by assessing risk transfer solutions in the U.S. SME market.
Additionally, the company will provide underwriting services for excess and surplus products.
Both a partnership and investment, SiriusPoint will serve as a founding investor in Joyn Insurance, which began underwriting in July of this year.
Joyn Insurance founder and CEO Seraina Macia said, "Our technology and data services provide Joyn underwriters the opportunity to deliver quotes when they are needed, real-time rating and policies at bind, and deep insights into the risks and insured needs."
"We can think of no better partner in this mission than SiriusPoint — with their partnership, we are taking an old, painful, and operationally expensive process and turning it into a joyful one."
Sid Sankaran, chief executive officer and chairman of SiriusPoint, said "Joyn's tech enabled approach, underwriting-first mindset, and the team's obsession with resolving long-standing pain points for brokers and customers align perfectly with our vision for how to bring about change in the marketplace. We are excited to partner with them on this first of its kind offering."
UFCIC to Accept Cryptocurrency for Premium Payments
Universal Fire & Casualty Insurance Company (UFCIC) announced it is now accepting cryptocurrency for premium payments. The insurer is the first in the U.S. to do so.
UFCIC primarily underwriters P&C lines of business, which include commercial property, general liability and business owners' policies, to name a few.
The insurer will accept a variety of cryptocurrencies, which include Bitcoin, Ethereum, Bitcoin Cash and Litecoin for "premium payments for direct online license and permit bonds and other surety bond products," a press release highlighting the announcement said.
Additionally, UFCIC also launched a web-based direct surety platform that allows insureds to purchase surety bounds using cryptocurrency.
John Lucker, EVP, chief strategy and analytics officer, discussed the insurer's cryptocurrency introduction.
He said, "Early in the development of UFCIC's innovation plan it became evident that the use of crypto for mainstream customer insurance transactions was not a matter of if, but when.
"When we implemented our new direct online surety bond portal, cryptocurrency was a way to provide our customers with a broader and flexible array of convenient payment options that the marketplace is demanding." &
Emma Brenner is a staff writer with Risk & Insurance. She can be reached at
[email protected]
.