Risk & Insurance News + Notes: Swiss Re Estimates Global Insured Catastrophe Losses to Reach $112 Billion in 2021
In 2021, insured losses from natural disasters exceeded the previous 10-year average, continuing a trend of annual rises in losses seen in recent decades.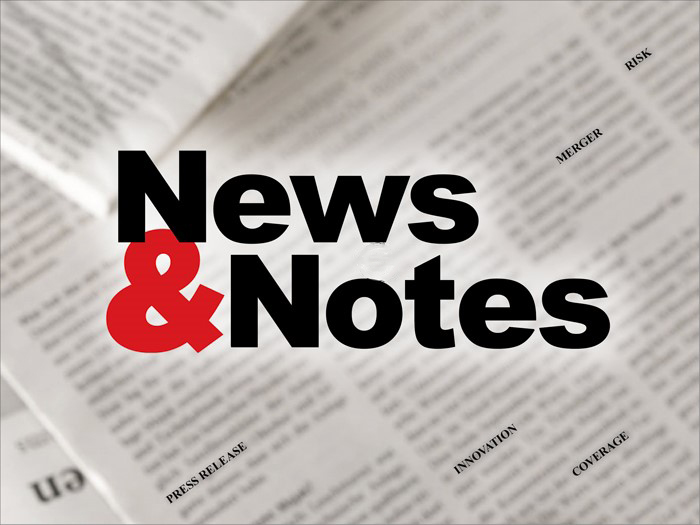 Global Insured Catastrophe Losses Rise to $112 billion in 2021, Swiss Re Institute Estimates
Extreme weather events caused global insured losses of an estimated $105 billion in 2021, the fourth highest since 1970, according to Swiss Re Institute's preliminary sigma estimates. Of the natural catastrophes—including a deep winter freeze, flooding, severe thunderstorms and heat waves—Hurricane Ida was the main loss-making event.
Man-made disasters triggered another $7 billion in losses, resulting in estimated global insured losses of $112 billion in 2021.
Natural catastrophe losses are likely to continue to grow more than global GDP given increases in wealth, urbanization and climate change, Swiss Re found.
"In 2021, insured losses from natural disasters again exceeded the previous 10-year average, continuing the trend of an annual 5–6% rise in losses seen in recent decades," Martin Bertogg, head of cat perils at Swiss Re commented.
"It seems to have become the norm that at least one secondary peril event such as a severe flooding, winter storm or wildfire, each year results in losses of more than $10 billion. At the same time, Hurricane Ida is a stark reminder of the threat and loss potential of peak perils. Just one such event hitting densely populated areas can strongly impact the annual losses," Bertogg noted.
The two costliest natural disasters of the year were both recorded in the U.S.: Hurricane Ida and winter storm Uri. The costliest event in Europe was the July flooding in Germany, Belgium and nearby countries, causing up to $13 billion in insured losses along with economic losses of above $40 billion.
"The impact of the natural disasters we have experienced this year once again highlights the need for significant investment in strengthening critical infrastructure to mitigate the impact of extreme weather conditions," Swiss Re's group chief economist, Jérôme Jean Haegeli said.
"Investments in infrastructure support sustainable growth and resilience and need to be upscaled," Haegeli affirmed. "In the US alone, the infrastructure investment gap to maintain critical and aging infrastructure is $500 billion on average per year until 2040."
In partnership with the public sector, Haegeli views the insurance industry as "critical for strengthening society's resilience to climate risks, by investing in and underwriting sustainable infrastructure."
Monarch E&S Insurance Services Acquires the Assets of Anderson & Murison, Inc.
Monarch E&S Insurance Services (Monarch E&S), a division of Specialty Program Group LLC, has acquired the assets of Anderson & Murison, Inc. (A&M).
A&M is a full-service national surplus lines broker and underwriter of specialty commercial and personal lines insurance risks. Incorporated in 1965, the business began with a firm foundation in the late 60's "having the pen" for E&S carriers and becoming a Lloyds cover-holder, per a press release.
"A&M has a great reputation in our industry and deep specialization in the personal umbrella space," Derek Borisoff, CEO of Monarch E&S, commented.
"A&M's operation will compliment Monarch's current offering and allow us to provide for a more robust personal lines solution with digital capabilities."
For A&M, CEO Jim McCarthy said, "Monarch is an organization known for its superior service to retail brokers. This strong sense of customer service is shared by A&M. Our joint capacity to fulfill retail brokers expectations will create an unbeatable combination of products and service."
Insurtech MGA Corvus Insurance Partners with CyberCube
Corvus Insurance, a provider of commercial insurance products powered by AI-driven risk data, has partnered with CyberCube in an effort to better analyze and understand cyber risk.
Corvus Insurance plans to integrate CyberCube's risk aggregation analytics into its existing tools to provide a comprehensive analysis of the business' exposures to cyber risk for their capital partners, per a press release.
"Corvus Insurance has built an impressive set of technology capabilities in cyber insurance underwriting. CyberCube looks forward to augmenting those capabilities even further with additional data and analytics to drive deeper understanding of sources of accumulation risk and sources of profitable policy growth," Pascal Millaire, CyberCube's CEO, commented.
"We see this benefiting Corvus's enterprise clients and capacity providers, while showcasing collaborative innovation from two leading insurtech firms."
"We are excited to partner with CyberCube, a market leader in cyber risk analytics," Lori Bailey, Corvus Insurance's chief insurance officer, said.
"We believe CyberCube's technology, coupled with Corvus's proprietary Risk Aggregation Platform, will provide greater transparency of cyber risk aggregation to our risk capital providers."
Risk Strategies Acquires Fournier Group Adding to Aviation & Entertainment Capabilities
Risk Strategies, a national specialty insurance brokerage and risk management firm, has acquired Fournier Group, a full-service commercial and personal lines retail insurance agency.
Headquartered in Portland, Oregon, Fournier Group has a regional reputation as a leading expert in the hospitality, entertainment, and aviation industries, per a press release.
"We believe culture and expertise are equally important for success," John Scroope, Risk Strategies' national director of retail operations said. "With Fournier Group, we see terrific people who are smart, dedicated, and caring, with deep expertise that will add to key existing practices, while adding valuable new depth and knowledge in others."
Fournier Group's president, Greg Kuhns, commented, "In seeking the right partner to perpetuate our business and founding vision, Risk Strategies' specialist approach and collaborative focus really stood out."
"Risk Strategies had the expertise-focus we wanted, but we were equally impressed with the quality of the people and inclusive, collaborative culture we encountered at every level of the organization," Kuhns said. &
Raquel Moreno is a staff writer with Risk & Insurance. She can be reached at
[email protected]
.